In case of emergencies please ring 999/112
Background & Consultation Process
NAS Vision2020
In recent years, the NAS has embarked on a strategic investment programme to develop a modern, quality service that is safe, responsive and fit for purpose. The service is implementing a significant reform agenda which mirrors many of the strategic changes underway in ambulance services internationally as they strive for high performance and efficiency whilst coping with a continuously increasing demand on services. This is in line with the recommendations of the Department of Health's (DoH) strategic framework, Future Health, A Strategic Framework for Reform of the Health Service 2012 – 2015 to ensure a clinically driven, nationally co-ordinated system, supported by improved technology.
Major reviews of the service were undertaken or commissioned during 2014. Two of these reviews were completed in 2014. These were an internal HSE review to support performance improvement and the Health Information and Quality Authority (HIQA) review of pre-hospital emergency care services in Ireland, published in December 2014. The priority items from the HIQA review are being progressed.
Two further reviews were completed during 2015. These include the first ever National Capacity Review of pre-hospital emergency care services in Ireland and a review of the provision of pre-hospital emergency care services in Dublin.
In order to merge together the outcomes from the various reviews, a single cohesive strategic plan for ambulance services is being developed called Vision2020. This will set out all the actions necessary to implement the various recommendations and to address the range of other demands and changes facing the ambulance service. While the reviews are fundamental there are other key strategic impacts on ambulance services including for example the national clinical programmes and the strategic plans for hospital groups. Vision2020 will pull all of these together into a single plan for the service to ensure a clear direction for ambulance services.


The development of Vision2020 is being overseen by a steering group comprising of representatives of Ambulance Services, Hospital Care division, Health and Well Being division, Primary Care division, Quality Improvement division and the HSE's System Reform Programme. A patient representative is also joining this group.


International Best Practice
With respect to international trends, a review was conducted over a short period of time and took a targeted and pragmatic approach to gathering and analysing evidence from documents produced on pre-hospital emergency care services in recent years. This included a review of varies strategies and plans from a range of countries including Northern Ireland, Scotland, England, Wales, New Zealand and Australia. The literature was analysed to identify models of good practice in the strategic provision of pre-hospital care services internationally.


The following key trends were identified:
Alternative ways of responding to calls are available, particularly 'see and treat', 'hear and treat'

Referral of patients to one of many alternative care pathways, e.g. minor injury units, out of hours services

Development of new care pathways to help ensure patients get the lifesaving treatment they need faster than ever before

Modernised workforce to respond to the changing the needs of patients and provide a range of treatments in a patient's own home or public setting rather than transporting them to hospital

Increasing considerations on medical and technological advances that impact at both a system and patient care level

Consolidation of Control Centres to support improved response times

Use of Dynamic Deployment Points to improve response times

Separation of Emergency Ambulance and Intermediate Care Services
The documents reviewed and considered as part of the literature review included: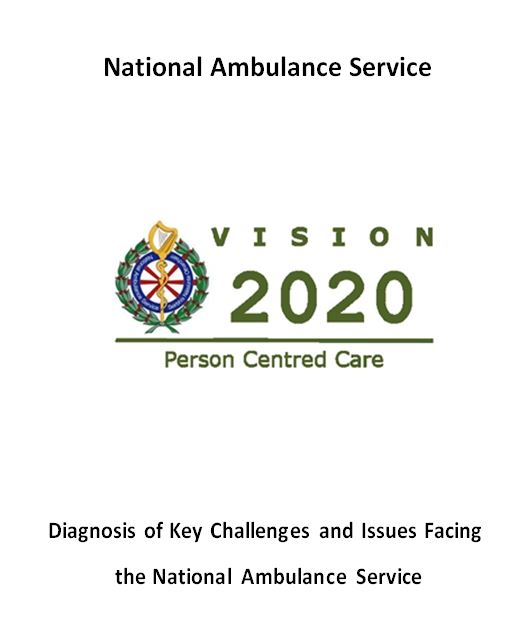 Background
The following outlines a high level diagnosis of the key issues facing pre-hospital emergency care services in Ireland. These have been developed through a series of one on one interview with key stakeholders, analysis of service reviews undertaken on NAS, such as the HSE and HIQA reviews, and through a review with the NAS Leadership Team and NAS Vision 2020 Steering Group.


Diagnosis of Challenges and Issues
Quality and Patient Safety
- Requirement to strengthen clinical audit and assurance processes to ensure patients receive the most up to date care 
- Requirement to ensure an integrated clinical governance system in place between NAS and DFB 
- Requirement to strengthen the quality systems within NAS
- Unable to achieve 80% Delta in 18 minutes with current model and resources 
- Unable to achieve 80% Echo in 8 minutes with current model and resources 
- Challenges to achieve performance in rural areas and new models required to improve response times in rural areas 
- NAS is currently unable to use predictive analysis to inform deployment of crews due to the historic lack of a single CAD and specialist software to undertake such analysis in a dynamic manner 
- Due to the lack of a single call and dispatch model for Dublin the dispatch process in Dublin is not as seamless as in other areas and it is not possible to interrogate all calls in one database to ensure improved planning and performance monitoring 
- Ambulance turnaround at hospitals remains a concern due to ED pressures 
- Requirement to develop outcome based models for performance measurement including based on the full patient lifecycle; requirement to introduce an electronic patient care record to facilitate increased audit and outcome based measurement of performance
- Analysis needed on the potential of new 'non-conveyance' models (Hear and Treat, See and Treat, Treat and Discharge and Alternative destinations) in the Republic of Ireland to ensure appropriate investment to support acute and primary care services 
- Development of clinical programmes and hospital group strategic plans will continue to impact on NAS destinations for specific patient types which in turn can impact on response times if there are longer journeys required. 
- Different triage protocols and technologies between 112/999 and Out of Hours services results in potentially different access and pathways for patients. 
- Development of a clear, consistent model for Urgent Care by health services can impact on Emergency Care services provided by NAS
Organisation and Governance 
- Service organisation still has remnants of old health board structures and grades that need to be addressed to ensure NAS has a modern and appropriate organisation structure that is fit for purpose. 
- NAS is a new organisation with limited capacity at national level and is embryonic in developing key functions that are in place in other HSE divisions and service delivery organisations.
- NAS is currently facing a recruitment deficit and needs a workforce plan 
- HIQA report identified management deficits requiring management and leadership development 
- As with other areas in the HSE there are significant human resources challenges arising from the recent staff survey for NAS 
- Need for clarification on the development of third level educational programme
- Recent positive investment in ICT has enabled performance improvement but further investment needed to further improve response times 
- Requirement to develop an ICT strategy to ensure all projects are aligned to HIQA report 
- Significant issues with Fleet management identified in the HIQA report 
- Requirement to review and update NAS fleet replacement policy and ensure an agreed approach to funding vehicle replacement
- Lack of public engagement around the potential response options in different areas such as Urban, Minor Urban and Rural. 
- Requirement to strengthen clinical audit and assurance processes to ensure patients receive the most up to date care 
- Requirement to strengthen the quality systems within NAS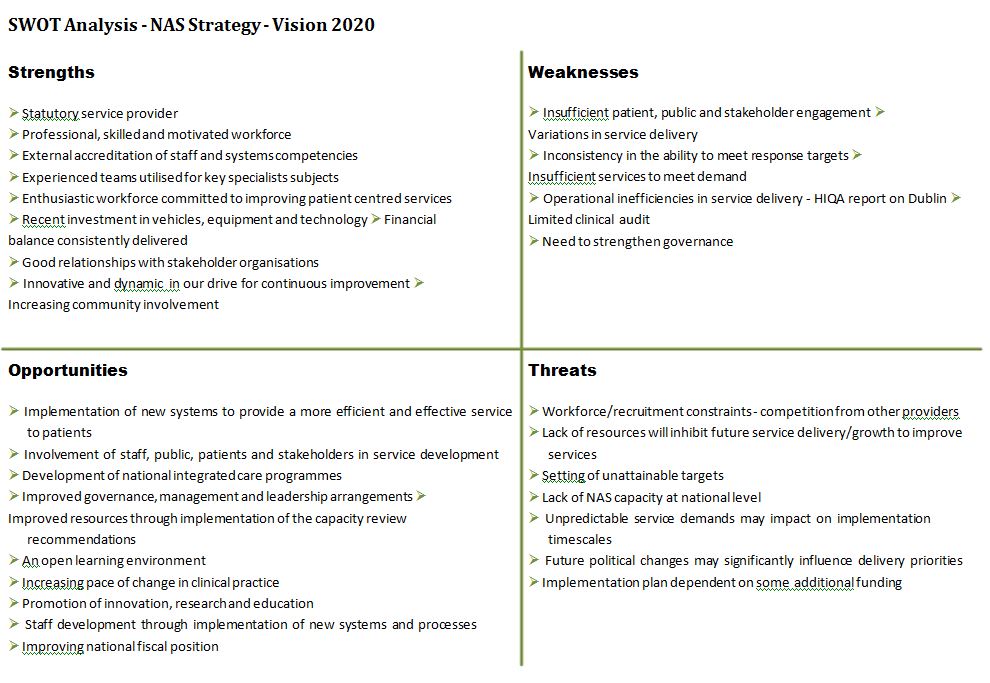 Reviews
There have been a number of reviews undertaken in relation to the National Ambulance Service. These reviews are important in framing an overall plan for ambulance services and their findings and recommendations are being incorporated into the Vision2020 action plan. Where a report is published then those recommendations are being advanced in parallel with the development of Vision2020 action plan.
Reports such as:
National Capacity Review 2015

Strategic Review of Dublin services (Not yet completed)
Consultation
As part of the development of a single strategic plan for the service the steering group undertook an assessment of the ambulance service based on the emerging findings from the various reviews, international best practice, a SWOT (Strengths/Weaknesses/Opportunities/Threats) analysis and views from within the healthcare system. The final conclusions from this process are set out:


NAS Vision 2020 Share Your Views - Consultation Paper.pdf (size 1.1 MB)
NAS Vision 2020 Consultaion Findings Report
In order to gather feedback from staff and other interested parties it was agreed that having considered the HQIA report, emerging capacity review, international best practice, national clinical programmes, hospital group strategic plans, that a draft consultation paper would be produced.


Separate consultation meetings are also being planned with other key stakeholders and key partners, such as Dublin Fire Brigade.


We have had a number of staff focus group sessions and below is a list of forthcoming sessions that are open to all staff.  Additionally managers are being encouraged to seek feedback from staff at their own staff meetings.


| Day and Date | Time | Venue |
| --- | --- | --- |
| Thursday 19th November 2015 | 09.30am | The Education Centre, Midland Regional Hospital, Mullingar |
| Friday 27th November 2015 | 10.30am | The Abbey Hotel, Donegal Town |
| Friday 4th December 2015 | 09.30am | Boardroom, HSE Buildings, Bective Street, Kells, Co. Meath |
Staff Focus Group Meetings 2015 - Vision 2020 Presentation
We would appreciate your feedback on the objectives and projects to deliver our goals, your suggestions to support and deliver them, as well as your overall views on our vision for person centred care in ambulance services.


There are a number of ways feedback can be provided including:


Online survey questionnaire
Fill in our form by clicking this link
You can also email your feedback to: