In case of emergencies please ring 999/112
Strategy to Improve Out of Hospital Cardiac Arrest Survival
WHAT IS CARDIAC ARREST?
A cardiac arrest is when the heart suddenly stops being able to pump blood around the body. When this happens, blood cannot reach vital organs such as the brain, and the person who suffers a cardiac arrest will quickly become unconscious and stop breathing. If cardiopulmonary resuscitation (chest compressions with or without mouth-to-mouth ventilation) is not started quickly, death will occur within minutes.
WHAT IS OUT-OF-HOSPITAL CARDIAC ARREST?
The term used to describe an event where cardiac arrest occurs unexpectedly in the community is 'Out-of-Hospital Cardiac Arrest' (OHCA).
The tragedy of OHCA has been highlighted in recent years by the sudden deaths of young athletes participating in sport. The vast majority of OHCAs however, occur from middle-age onwards and are most commonly caused by coronary heart disease.
WHAT IS THE 'CHAIN OF SURVIVAL'
The chances of surviving OHCA rely on resuscitation being started within minutes of the patient's collapse. In order to start effective resuscitation immediately, early recognition and calling 112/999 for help are required. The vital resuscitation interventions that improve survival from OHCA are collectively known as 'The Chain of Survival'. This 'chain of survival' includes a number of steps:
Early recognition of OHCA
Immediate call for help (112/999 for ambulance service)
High quality cardiopulmonary resuscitation (CPR)
Defibrillation within minutes of collapse
Effective advanced medical care
Post resuscitation care

STRATEGY TO IMPROVE OUT-OF-HOSPITAL CARDIAC ARREST SURVIVAL
The National Out-of-Hospital Cardiac Arrest (OHCA) steering group has been commissioned by the HSE National Director for Emergency Management & National Ambulance Service, and the HSE National Director for Health & Well Being.
The OHCA Steering Group has been established to develop and implement a strategy to improve OHCA outcomes in Ireland. The strategy will set out the plan for OHCA up to 2020, the actions for implementation, and the measures for improved outcomes and results.
Our first OHCA Steering Group meeting was held on Wednesday 15th February 2017. The Group is made up of representatives from organisations/state agencies and stakeholders that have a responsibility for services that make up the internationally recognised 'Chain of Survival' for OHCA. The internationally recognised 'Chain of Survival' includes early recognition, immediate effective cardiopulmonary resuscitation, rapid defibrillation, pre-hospital advance life support, post-resuscitation care and aftercare.
A representative from each of the following organisations makes up the National Steering Group which includes (in alphabetical order):
Academic Advisor (NUI Galway)
CFR Ireland
Department of Health
Dublin Fire Brigade (DFB)
Federation of Irish Sport
HSE:
Health and Well Being Division
National Ambulance Service
National Clinical Programme for Acute Coronary Syndrome
National Clinical Programme for Emergency Medicine
Office of the Chief Information Officer
Primary Care Division 
International Advisor (Sweden)
Irish College of General Practitioners
Irish Heart Foundation
LCDC Policy and Development Unit, Department of Housing, Planning, Community & Local Government
National Directorate for Fire and Emergency Management
Patient Advocate
Pre-Hospital Emergency Care Council
Public Patient Representative.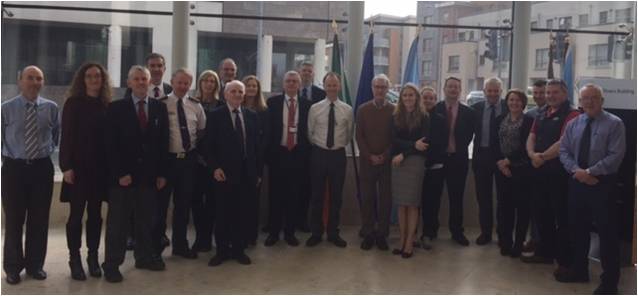 OHCA Steering Group
WHY DO WE NEED A STRATEGY?
Out of hospital cardiac arrest is a significant source of mortality and morbidity with wide variation in reported incidence and outcomes globally. Between January 2012 and December 2015, a total of 7,904 people received lifesaving resuscitation care from NAS and/or DFB according to the current OHCAR register, with 490 people discharged from hospital alive. http://www.nuigalway.ie/ohcar/.
Research shows that "it takes a whole system to save a life". This is why a whole nation approach to improving OHCA survival is essential. In order to have a whole nation approach, a cross sector, jointly developed and fully agreed strategy is needed which will set out the plan for OHCA care for Ireland from now to 2020.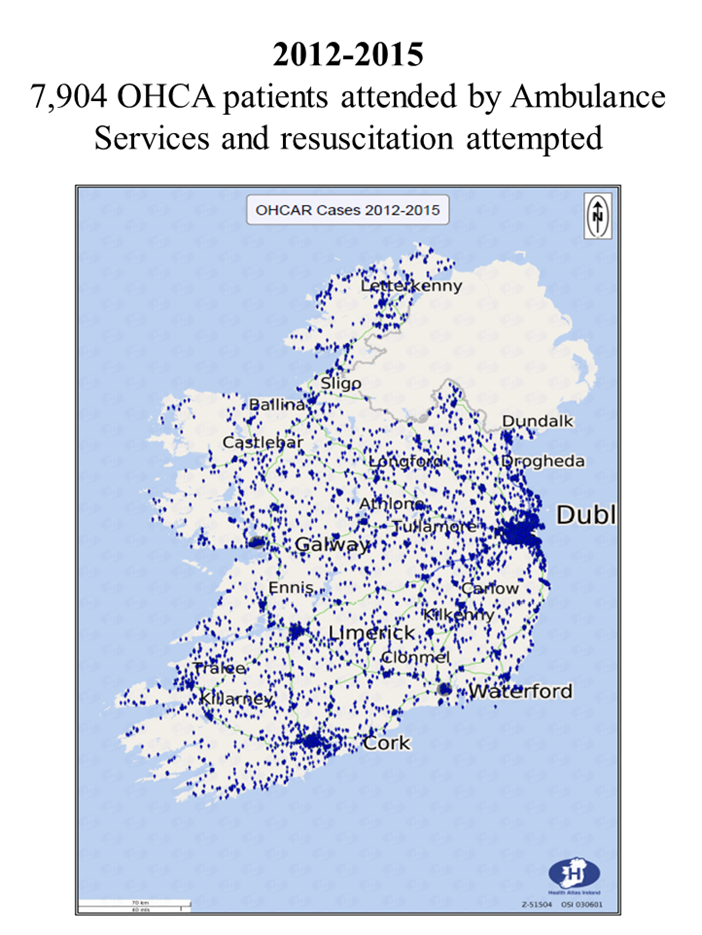 Source: OHCAR – National Out-of-Hospital Cardiac Arrest Register
HOW WILL THE STEERING GROUP WORK?
The aim of the steering group is to improve survival from OHCA by strengthening the Chain of Survival across Ireland.  
National and international evidence and experience will be assessed for applicability in an Irish setting. A framework will be developed whereby members/members organisations can present ideas and proposals for improvement, for each link of the Chain of Survival. 
An important objective of the Group will be to ensure that the impact of the Strategy can be monitored through effective and accurate data recording and data reporting. 
The most important challenge for the Group will be to make sure that the recommendations of the Strategy are implemented. This is why the Strategy will include an implementation plan with planned activities, timelines and responsibilities. 
There are currently examples of excellent resuscitation practice across our nation. The group will review these practices with the view to national implementation, with the ultimate aim of improving OHCA survival nationwide. Ireland has an opportunity to put in place an OHCA strategy and systems that rivals the best performing international systems. 
This is a very exciting and positive initiative for Ireland and the Group are looking forward to developing and implementing a Strategy to improve the outcome for patients who experience an out of hospital cardiac arrest. 
For more information please contact Siobhan.Masterson@hse.ie
If you wish to get involved in your local CFR group please click here